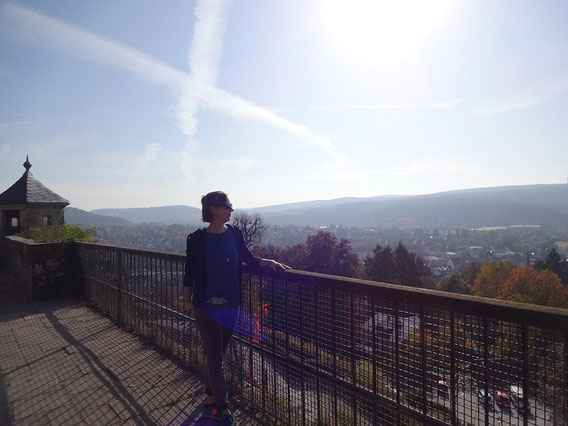 #JAHRESENDRANDNOTIZEN
 an einem sonnigen herbstferientag unternahm ich mit meinem sohn einen ausflug ins oberfränkische kronach. die burg schien mich zu rufen und ich lockte nils mit der aussicht auf fränkische würstchen. bald zwei jahrzehnte war ich nicht hier gewesen. die würstchen waren schnell verzehrt, die stufen mit links genommen.
die burg heisst festung rosenberg.
dies ist der herbst. dies ist das goldene licht. die weite, das ganze leben.
dies ist die klarheit und die stille kraft, der oktober der fülle und räume und träume.
nur ein moment, ein augenblick, bis das bild zerbricht.
für einen 14 jährigen leuchten die prioritäten via google maps vom display des heutigen immer-bereit. paulaner spezi, das getränk des jahres, nils folgt der navigation und ich folge ihm. urplötzlich finde ich mich wieder im lärm und gestank der autos und strassen. urplötzlich verliere ich den boden unter den füssen. nerven blank. hyperium. unmut. schuldgefühle.
mutter und sohn im wortgefecht, mutter und sohn getroffen.
ich schicke nils allein durch die stadt und beruhige mich an einem nahen bach.
schweigend fahren wir zurück, im franken-thüringen-express. schatten liegen auf mir, der rest des tages schluckt sich schwer hinunter. ich brauche tage, um akzeptanz zu entwickeln.
als ich mir die fotos anschaue, kommt der frieden zurück.
nur ein moment, ein augenblick. dies ist das bild des jahres.
 festgehalten von meinem sohn.
der wechsel der gezeiten. wellenberge und wellentäler.
gipfel, auen, schluchten. quellen, treibsand, morast.
zarte pflanzen umschlingen mondsteinquarz. zarte pflanzen drängen durch den asphalt und wachsen in ihre bestimmung hinein, osho nennt dies mut. im zen tarot ist es die achte karte.
2019 war ein jahr des tarot, der natur, der tagebücher, der küche, der bewegung.
das jahr, in dem ich keine einzige grafik schuf.
das jahr, in dem ich mehr tanzte, als je zuvor.
ich wollte es wirklich genau wissen und zählte die verzeichneten stunden in meinem taschenkalender: 85 stunden tanz, nebst 120 stunden walking, nebst 55 stunden studio workout. und immer lieber yoga. manchmal schafft quantität qualität und manchmal ist es umgekehrt.
manchmal musst du dein knie versorgen, dann wieder den rücken, darfst dich von essanfällen erholen, von zähnen verabschieden oder von illusionen, manchmal kann es auf dem schulhof zum eklat zweier eltern kommen, damit du neue schneisen schlagen kannst für dich und dein kind, und um herauszufinden, welche nachbarin dich in den arm nimmt, wenn dir die luft ausgeht. irgendwann verstehst du selbst die kreative krise als inkubationszeit für neuen ausdruck.
nur die depression, die depression steht auf einem anderen blatt.
die depression ist noch immer ein buch mit sieben siegeln.
die depression gibt ihren kontext nur zögerlich preis. doch sie tut es.
innerhalb eines balanceaktes aus hingabe und gegenwehr.
es fühlt sich stimmig an, schreibend ins neue jahrzehnt zu gehen. wo die manchmal schon vertraute stille mehr und mehr raum gewinnen darf. the essence is at ease. dieser satz durchzieht in den letzten tagen immer wieder meine gedanken. ich hab ihn irgendwo im zen tarot aufgeschnappt. er spricht zu mir in einer art und weise, als hätten ihn in the nursery vertont.
und so wähle ich ihn als titel meiner #jahresendrandnotizen.
ich danke von herzen meinem sohn. er ist ein toller typ. mit einer nunmehr tiefen stimme.
seine worte und blicke können mich in mark und bein treffen. dann wieder tauschen wir uns aus in spotify, lachen über netz-funde bis zum bauchweh, oder wenden abwechselnd die pfannkuchen.
ich danke meinen freundinnen und freunden, meiner familie, meiner therapeutin, allen künstlern, deren musik mich durchs jahr begleitet hat, allen inspiratoren und spiegeln auf dem weg.
auf dem herd köchelt linsensuppe, ein ritual der verstorbenen mutter meines besten freundes, damit uns im neuen jahr das geld nicht ausgeht. nils ist nebenan und verbringt den abend mit seiner netz-gemeinde. um mitternacht werden wir anstossen, er mit energydrink und ich mit frischpresssaft.
diese notizen widme ich meiner langjährigen lebenskunstgefährtin ute dukat.
wishing you all a happy new year and a peaceful new decade!